Super Duper Hamburgers for Labor Day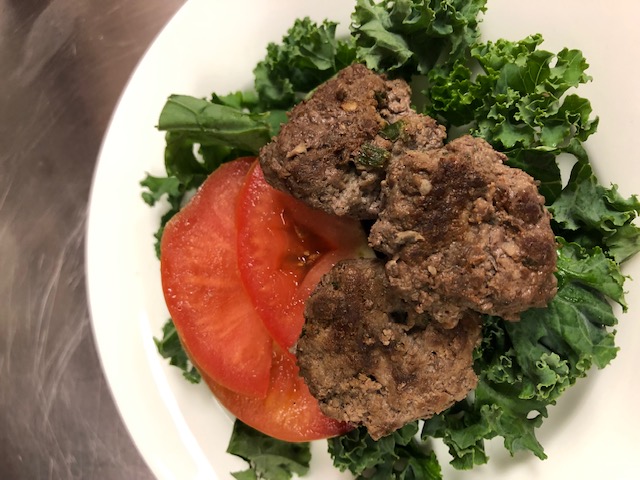 Created just for you at the Diabetes and Endocrine Institute by Pat S. Woo
1 lb Ground beef (90% fat free)
1/3 block Tofu (firm) (drain excess liquid and grind in a blender until smooth)
½ C Mushrooms (chopped finely)
½ Large tomato (grind smoothly in a blender – will look watery after grinding.)
6-8 Slices of a large tomato for serving
5-6 cloves Garlic (finely chopped)
2-3 Stalks Green onion (finely chopped)
½ tbs cilantro (finely chopped)
1/3-1/2 tbs Granulated onion
¼ ts Black pepper
Salt to taste
½ ts Granulated garlic (to be used at the end of cooking)
Method:
Mix all the ingredients (except tomato slices and granulated garlic) together. Season well with salt.
Form the beef mixture into small patties (around 2 inches round) or regular size patties.
Cook patties in medium/high non-stick skillet. NO OIL needed. There will be a lot of fluid coming out of the patties. Cook until fluid dries up. Turn patties once they are brown. Don't turn too soon or the patties will break apart.
Cook until both sides are brown. By this time, the liquid should dry up.
Sprinkle granulated garlic on top. Turn the patties one last time to cook the garlic. Turn off heat so garlic will not burn. Stir the patties with garlic so it will coat all sides of patties.
Serve.
Can serve on a bed of fresh vegetable with slices of fresh tomato and be eaten as salad with Walden Farms no fat, no carb, no calories, salad dressing. (Or the vegetable can be sautéed first.)
This recipe is low in fat (saturated fat), low in carb, low in calories – but high/super high in taste!!!!
You can also grill these hamburgers as well.
Remember, with the Labor Day celebration you don't need to eat high fat, high carb foods (such as potatoes, bread, sweet relish, ketchup, etc.)
Happy Labor Day!