Hope. Healing. Health.
Wayne Woo, MD, MA, FACE, CCD, CDE, CDTC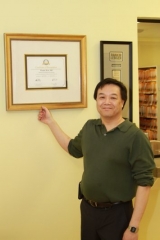 Dr. Woo is certified in endocrinology, follows closely the ADA standards of care, and creates innovative programs that meet specific patient goals. He is also a certified clinical densitometrist, thyroid sonographer, wound care certified, and is strongly committed to helping those with diabetes and gestational diabetes obtain the highest level of diabetes care and education.
Dr. Woo has also been nationally recognized as Diabetes Educator of the year. He spends a great deal of his personal time developing programs and hosting events for his patients and their families in order to help them learn more about the disease and life choices that can be life-changing for the individual and their loved ones.
At the Diabetes and Endocrine Institute, you will find our professionals both friendly and knowledgeable.
Our Facilities: